Burnout has always been a hot topic in the HR world, and with the rise of the COVID-19 pandemic, employees are more prone than ever to burnout. A lot of advice circulating on this subject is directed at employees, providing tips on how to protect themselves from experiencing burnout, but what can organizations do?
Who is responsible for managing burnout?
There are a lot of factors that are outside of employees' control, and organizations must meet them halfway if they are to meaningfully address burnout. The World Health Organization (WHO) officially recognizes burnout as an occupational phenomenon, a strong indication that organizations need to share responsibility and develop prevention strategies. Employers need to take into account the impact of burnout on the employee's well-being and their productivity.
The same principle applies to self-care. The media often depicts self-care as luxurious and indulgent practices that people partake in to reduce stress and improve well-being. This is potentially damaging because it narrows what is considered self-care and places all responsibility on the individual. The WHO defines self-care as the ability of individuals, families, and communities to promote health, prevent disease, and maintain health. This definition is incredibly broad, and attitudes towards self-care are evolving by establishing healthy boundaries and decision-making that support mental health and well-being. For example, people are beginning to view leaving a job or area of work they find unfulfilling as an act of self-care.
Employer challenges addressing workforce burnout
With this perspective, addressing burnout and supporting self-care is an area of interest for employers. In 2020, a survey by Morneau Shepell indicated that 24% of employees surveyed were considering leaving their job. More recently, a survey by SilkRoad Technology found that 40% of employees plan to leave their current employer based on how they handled the pandemic, despite conflicting opinions from employers on the matter. Criteria between the two studies varied, but the takeaway is that a significant number of employees are sheltering with their current employer but eyeing the exits.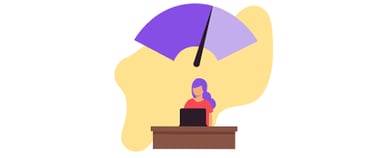 If you think this does not apply to your organization, you may be wrong. Many organizations harbour a "shadow culture," where a gap exists between how management perceives the state of the organization and employees' reality. It is difficult for management to accurately gauge employee attitudes and assess whether burnout is an issue without directly asking the question.
Reasons for employee burnout
To begin to understand burnout, here are the five main reasons employees cite for burnout as reported by Gallup:
Unfair treatment at work;

Unmanageable workload;

Lack of role clarity;

Lack of communication and support from their manager; and

Unreasonable time pressure.
What can employers do?
With burnout being a prevalent concern, you should seriously consider what measures you are taking to address the alarming statistics. We all need to place a stronger emphasis on our collective responsibility. Accepting the possibility of burnout in your workforce can be an ideal starting point in the process of managing burnout at work.
With many internal challenges like "shadow culture," we understand that managing burnout can be a struggle. To streamline the process, our team of HR experts has crafted a FREE Guide to Helping Prevent Employee Burnout. The guide outlines ways to protect your organization from systemic burnout and promote self-care. Click on the button below to download!
While HRdownloads uses reasonable efforts to maintain this site/blog and its Services in an up-to-date fashion, it does not warrant the completeness, timeliness or accuracy of any information contained on this site/blog or any of its Services, whether in English or French, and may make changes thereto at any time in its sole discretion without notice. All information and Services provided by HRdownloads are provided to members and/or users "as is", "with all faults," "as available" and at the sole risk of members and/or users. Our human resources information and recommendations are based on seasoned, best practice field experience and should not be construed as legal advice.