Vaccines have been the hot, even controversial topic lately. As more and more Canadians are becoming eligible and getting vaccinated, employers are wondering about their responsibilities and requirements surrounding vaccinations in the workplace. We are here to answer your frequently asked questions on vaccinations, employees, and your workplace.
Because we are still in the early stages of the vaccine rollout, it's important to remember that the scope of the pandemic is unique, and situations may change at any time.
Frequently Asked Questions:
Can we require employees to be vaccinated to work for the company?
There is a lot of confusion at this moment over the ability to make vaccines mandatory for employees. We recommend treading very carefully and even pressing the pause button on putting anything in place until more information becomes available.
The current landscape with the vaccine rollout varies by jurisdiction and is continuously changing. Right now, provincial governments have not clarified their positions regarding mandatory vaccination for any type of employee or work environment. Without specific laws in place, an employer cannot force an employee to get vaccinated, and you should not presume what actions you can enforce or expect that you can mandate vaccines for employees. Employers considering making vaccinations a condition of employment must also be aware of potential human rights violations, discrimination, or cases of constructive dismissal if employees cannot meet those conditions.
Responses will change as new information becomes public, and at some point, the government might introduce guidelines for certain types of jobs or industries, but for most workplaces, it does not look like there will be any ability for employers to make vaccinations mandatory. While mandating vaccinations is not an option now, employers still must maintain a safe work environment, and so may want to have knowledge of who has been vaccinated. However, even asking employees for proof of vaccination may not be a good idea.
There are no laws in place preventing employers from asking about vaccination status, but employees are not required to inform their employer whether they have had a vaccination or disclose their vaccination status if asked. But if employers even consider asking employees to volunteer that information, they must be aware that doing so is a collection of personal health information. Under privacy laws, there must be very specific reasons as to why they are collecting that information. Employers may feel that under certain circumstances (such as working with high-risk populations), asking for vaccination status is necessary, but doing so without understanding how privacy legislation applies can have significant consequences. Privacy legislation related to personal information, and specifically personal health information, varies by jurisdiction regarding the collection, use, and disclosure of personal data, and in some cases it may not even be considered reasonable to collect vaccination status information.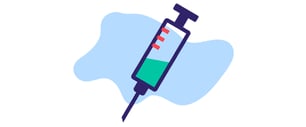 Can we encourage our employees to get vaccinated? For example, can we offer incentives like bonuses for those who do?
Incentives may seem like a great way to encourage employees to get vaccinated and show you are invested in their health, but you should avoid it. Leaving out certain group of people who cannot get vaccines due to health, illness, or religious reasons can be considered discriminatory. The approach of incentivizing vaccines falls into a grey area, which could result in legal issues.
Outside of paid time off during work hours, any monetary or financial incentives can feel coercive and may put pressure on employees to make a decision based on financial position, especially for those who need extra money during this time.
Right now, because vaccines are not openly available to the general population, many people still cannot get vaccinated who want to. This means that the incentives are only available to certain groups. Widespread availability or not, some may not be able to get vaccinated at all, which means that certain individuals would never be eligible for incentives. When one employee is offered a different opportunity than another, especially where that opportunity is not possible for the other employee, it can be considered differential treatment towards an individual or an entire group, and may cross into discriminatory or human rights-related issues.
Do I have to give my employees time off to get vaccinated during work hours?
As vaccine eligibility expands, more and more people will book appointments to get vaccinated. Because of the high demand, there will likely be limited windows for appointments; employees may need to book time during work hours. As the rollout continues, employers may see more requests for time to get vaccines.
Just like providing employees with time off for any other health-related matter, providing time off for vaccines should be a given, and in some cases is mandatory. Some jurisdictions have introduced legislation to provide time off for vaccinations, whether in general or specific to the COVID-19 vaccines. This means that employees must be provided with time off to receive however many doses necessary. At this point, multiple jurisdictions require employers to provide paid time off, starting at three hours for most places, for their employees to receive their vaccine.
It's likely that more jurisdictions will follow suit, so be sure to check government announcements, current legislation, and public health orders, which may provide additional provisions for vaccinations under leaves or job protections related to COVID-19. In addition to COVID-19-specific leaves, vaccinations may be included under leaves related to general health or illness.
Where paid leave is not mandatory, it is a great idea for employers to provide the time off and accommodate requests for vaccinations so that employees can receive them in a reasonable time frame. Also consider whether you want to offer paid or unpaid time off. Many employees may hesitate to leave work to get vaccinated if they would lose pay, but at the same time it may not be feasible for businesses who have already felt the struggle over the last year. Remind employees of all the options available to them and allow the use of any paid sick, personal, or vacation time if they choose to. Alternatively, you could provide flexible options where they can make up their time off on another day.
How can I ensure employees are respectful towards each other when it comes to those who are vaccinated and those who are not?
These days it seems impossible to have a conversation without something related to COVID-19 infiltrating the discussion, and lately the big topic has been vaccines. While in normal times, these types of discussions may not have seemed like a big deal, the subject of vaccination in the current landscape can be a sensitive and controversial topic. Differing viewpoints can create division between people, lead to biases, and even some heated moments between employees, so it is important to promote a non-judgemental workplace to prevent these issues from escalating.
Generally, employees may be worried about working with those who are unvaccinated. This can lead to different feelings and treatment towards others. You want employees to feel comfortable while working, and at the same time respect those who may choose not to or cannot get vaccinated. Ensure that all employees feel safe at work, which can be done by following public health measures, screening for symptoms, and ensuring employees do not come to work sick. You could also recommend employees read up on vaccination information to understand any additional precautions or health guidelines that should be taken until we are further in the vaccine rollout and more people are vaccinated.
Employees will have a legitimate concern for their safety, but other biases can be based on differences of opinions and personal views on vaccinations. Biases towards those who are unvaccinated or those getting vaccinated can develop quickly. There are a number of reasons one may not be able to or may choose not to get vaccinated, such as medical issues, religion, personal beliefs, general hesitation, or wanting to ensure that the vulnerable population gets theirs first. No matter what the reason, everyone should be respectful of personal choices. Because of the sensitive nature of the topic, employees may feel angry or become disrespectful towards others if they find out they are not getting vaccinated. In this situation, remind employees that discrimination will not be tolerated, have them review the company code of conduct, and revisit any policies that address bullying and harassment.
Employers may also be genuinely curious or just interested in talking to employees about vaccinations. However, unconscious biases can easily develop and lead to differential treatment, such as deciding not to hire or promote someone who is unvaccinated. Biases that lead to discriminatory behaviour or actions could result in legal repercussion for the organization. While discussing vaccines or COVID in general does not have to be prohibited, we recommend that managers avoid asking employees questions related to their vaccination status, such as:
When do you plan on getting vaccinated?

Have you booked your vaccination appointment yet?

Have you, or when will you receive your first (or second) shot?

Why aren't you getting vaccinated?
Asking these types of questions can come off as invasive and may also put pressure on employees to get the vaccine.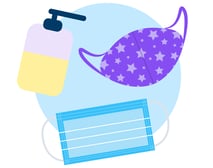 Do employees still have to wear masks if most of them are vaccinated?
Many people are looking forward to removing their masks and may think that once their employees are vaccinated, masks are no longer necessary.
There is a misconception that once the majority of the general population is vaccinated, some of the public health measures that have been put in place over the last year will end. Even though more people are getting vaccinated, we are still fairly early in the rollout, and many people are still unvaccinated or have not yet received their second dose, so there is still risk for transmission.
Employers should not allow employees to remove their masks where mask mandates apply or workplace policies require masks, whether employees are vaccinated or not. Workplaces should continue to follow the public health guidelines, such as mask and distancing measures, based on the recommendations or requirements for their region until the health and safety guidelines change or the public health emergency is lifted.
Need more answers? Click below to access the replay of our webinar COVID Q&A: Navigating New Challenges.
While HRdownloads uses reasonable efforts to maintain this site/blog and its Services in an up-to-date fashion, it does not warrant the completeness, timeliness or accuracy of any information contained on this site/blog or any of its Services, whether in English or French, and may make changes thereto at any time in its sole discretion without notice. All information and Services provided by HRdownloads are provided to members and/or users "as is", "with all faults," "as available" and at the sole risk of members and/or users. Our human resources information and recommendations are based on seasoned, best practice field experience and should not be construed as legal advice.