It has been more than a year of living and working through the pandemic. We may have the remote work thing down, and wearing masks in public has become second nature, but most of us are still trying to navigate the challenges of changing public health measures, on-again-off-again business closures, and keeping employees safe. No matter what the situation has been for your organization and its employees, whether you have fully re-opened, expect more restrictions, or are in full lockdown, we are here to help you help with the new challenges of the pandemic and answer some of your top questions on COVID-19 and the workplace.
Frequently Asked Questions:
Are we required to close the business if someone tests positive for COVID-19?
If an employee has tested positive for COVID-19, you should first and foremost make sure any other employees who feel ill or symptomatic are sent home immediately if they are not already home and self-isolating.
The next step is to notify the appropriate health authorities and follow their instructions for confirmed COVID-19 cases in the workplace. Immediately conduct a risk assessment and clean and disinfect all work areas and any surfaces the employee may have had contact with and determine whether anyone else has been exposed. If you have been proactive or must conduct contact tracing, notify other employees that someone in the workplace has tested positive for COVID-19 without disclosing that employee's information. Do not say who, but inform them of the date you were notified of the case and potential exposure. You do not want to stir up a panic, just make sure that employees who have been potentially exposed monitor their own symptoms. Continue conducting pre-screening and health declarations to monitor symptoms of other employees. You can encourage employees to get tested but cannot require them. Anyone who has tested positive must not return to work until they complete the required isolation period or receive medical clearance.
Closing the business down completely may be necessary depending on the number of cases, whether there is an outbreak, the type of workplace, or the nature of work. It is important to contact public health for instructions. With the increase in work-related cases, some cities and jurisdictions are now enforcing mandatory shutdowns if there is an outbreak, which in some locations can be as few as three cases in the same workplace. Follow up with your local government to find out how an outbreak might affect your organization. It is obviously best to take proactive measures to prevent outbreaks by making sure employees follow public health guidelines and do not come into work sick or symptomatic, but you should also consider a plan for maintaining operations and employee compensation if your company must shutdown.
Can we discipline employees for not following public health measures either at or outside the workplace?
Under a company's internal responsibility system, everyone plays a role in maintaining health and safety in the workplace. Employees failing to follow health and safety guidelines can put them and those around them at risk. Make sure that any health and safety policies related to public health measures during the pandemic are reviewed and understood, and that acknowledgement is captured with a signature. Businesses found in violation of public health guidelines could face serious repercussions and potential fines, so employee violations must be taken seriously.

Assess the level of seriousness to determine whether discipline is necessary. Start with a conversation and make sure that everything is documented properly. If an employee isn't following the directional arrows in the workplace, they would likely just need a reminder, but if an employee consistently wears their mask below their chin rather than covering their face, the company should follow the steps outlined in their progressive discipline plan.

Employers are responsible to ensure employees are not exposed to COVID-19 in the workplace, but personal activities and behaviours like attending large social gatherings outside of work during stay-at-home orders may also affect the health and safety of other employees. In some cases, we have seen off-duty conduct or even social media activity result in discipline or termination of employment, but this is still a major grey area for employers.

Before you even consider taking action, determine whether there is a connection between the off-duty conduct and the employment relationship. Are you seeing certain behaviours or activities that you may just not agree with, such as having personal gatherings or international travel, or is the employee doing something that would cause significant reputational damage or harm to the company or its employees? There is a line between workplace policies and personal behaviour, and these situations must be carefully addressed case by case. It may be frustrating when employees do things that may challenge public health guidelines, but we have seen from examples over the last few months that improper dismissal can result in serious legal repercussions, and the damages can be significant.

You can refuse an employee entry into the workplace if they did not pass a health screening or if public health orders make it so the employee is unable to come to work and perform their duties, such as a mandatory isolation period, but this is not considered a disciplinary measure that would have a negative effect on their employment record. You should still ensure that employees answer any workplace health screening requirements accurately and honestly and that they understand the seriousness of falsifying or lying on the health screening, which could then result in disciplinary action.
How do I maintain privacy if someone tests positive for COVID-19 in my workplace?
A COVID-19 diagnosis is considered personal health private health information, and employee privacy must be maintained as best as possible.
Employees must only be informed of what they need to know without disclosing personal information, such as a positive case in the workplace. Notice of a positive case should not reveal the identity of the employee or any other identifying information. You can tell employees that they will need to take over specific duties for a short time. You can also tell them there was a case of COVID-19 in the workplace and recommend they monitor for symptoms or get tested, but you cannot say that a specific person will be off for this many days, you may have been exposed, get tested. It is likely they will put two and two together and figure it out themselves, but that is not the same as the employer disclosing private information.
It may be necessary to let a team or department know that someone will be off for an extended time in order to complete tasks and job duties. Simply through process of elimination, most employees would be able to identify information on their own, but you must be sure not to confirm or give away any personal or identifying information about that employee, including their name. Make sure employees are not discussing the matter with others throughout the workplace, including spreading any speculation or guessing. The employee who is off may also feel comfortable with letting others know. In this case, you may want to recommend the employee reach out to others themselves so that you don't find yourself in a situation that may be considered a grey area.
Just be mindful when providing any sort of notice to employees, or even in general discussion not to inadvertently reveal any identifying information.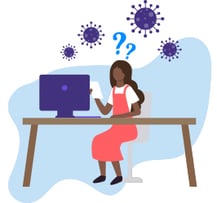 If an employee is required to self-isolate for 14 days, do I need to pay them for that time off?
Employers are only required to pay for the minimum amount of sick days set out by employment standards legislation or any paid sick time they have outlined in their employment contracts or agreements that exceed the legislative minimum.
Outside the minimum obligations, some employers may provide additional sick time or allow sick days to roll over where they can, in order to accommodate those who may be required to self-isolate. If paid sick time has been exhausted, employees can choose to use any paid vacation or personal days available to them, but employers cannot require that time be used for that purpose. If there is no remaining paid time off available and you are not able to provide additional paid time off, you can recommend the employee work remotely where possible until they are clear to return to work, and provide employees with options for unpaid time off, such as job-protected leaves.
Most jurisdictions now offer job-protected leaves that cover time off for mandatory isolation for COVID-19 or to care for a family member who has COVID-19. These leaves may be rolled into illness-related leaves or public health emergency leaves, or may be a brand-new leave specifically for COVID-19. While these leaves are typically unpaid, they provide employees with necessary job-protected time off to self-isolate or recover from COVID-19.
Employees may also qualify for additional wage protection benefits. Employees can be referred to Service Canada to find out more. This is something that is handled exclusively between the employee and Service Canada.
If an employee goes on vacation or leaves the country for non-work-related or personal reasons and must self-isolate upon return, the company is not required to pay them for that time. However, allowing them to work remotely for a temporary period is an option. If the employee continues to do their job remotely for the mandatory isolation period, they must be paid for any work performed.
How can I help employees stay on top of the public health guidelines and requirements when they are always changing?
The changing public health guidelines can be very stressful and confusing for anyone to manage. In general, you should keep informed of public health measures to know what changes or restrictions will affect your organization. The situations are changing rapidly, even daily in some jurisdictions, and can vary down to the city.
The public in general would likely know about major changes based on frequent government announcements, so it is not necessary to inform employees of every detail, such as private social gathering limits. However, you should keep employees informed of any changes that will affect their jobs and the workplace. This includes:
Business closures that may result in returning to remote work, reduced hours or limited shifts, or temporary layoffs;

Business capacity limits, changes in operating hours, or restrictions to non-essential items, such as what can and cannot be sold;

Health and safety measures that must be followed in the workplace, such as mask mandates, distancing, and cleaning requirements; and

Lifted restrictions, re-opening, and recalling them back to work.
Reopening plans vary by location, and each jurisdiction has a unique framework, with movement between different levels based on data such as case counts, vaccination distribution, or hospital capacity. We recommend regularly monitoring government websites for announcements to ensure your organization keeps informed about and follows the appropriate measures under the most current guidelines.
Need more answers? Click below to access the replay of our webinar COVID Q&A: Navigating New Challenges.
While HRdownloads uses reasonable efforts to maintain this site/blog and its Services in an up-to-date fashion, it does not warrant the completeness, timeliness or accuracy of any information contained on this site/blog or any of its Services, whether in English or French, and may make changes thereto at any time in its sole discretion without notice. All information and Services provided by HRdownloads are provided to members and/or users "as is", "with all faults," "as available" and at the sole risk of members and/or users. Our human resources information and recommendations are based on seasoned, best practice field experience and should not be construed as legal advice.